33th Australian Poultry Science Symposium (APSS)
7 febrero, 2022

-

9 febrero, 2022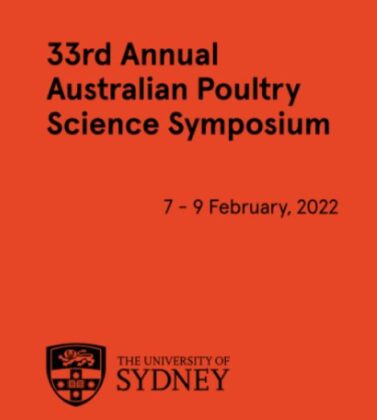 The Australian Poultry Science Symposium (APSS) is the premier avian science conference in Australia, attracting delegates from across Australia and all around the world. APSS 2022 will be the 33rd edition of the symposium and although we initially announced we would present a HYBRID EVENT next year, we have made the very difficult decision to revert back to VIRTUAL ONLY again for 2022.
Over the past 5 years we have witnessed a steady growth in attendance of the conference, and even when the COVID-19 pandemic meant that we could only offer a virtual conference last February, we managed to reach a record number of attendees and surpass our 300 delegate goal.  The impact of the global travel restrictions will still be hugely felt next year, and with ongoing lock-downs across Australia until at least mid-November, we believe that it may also be unlikely that even Australian delegates will be able to congregate just yet either.
We noted an extraordinary number of new attendees in 2021, and we strongly believe that we can continue this trend into the future. The LIVE VIRTUAL STREAMING of the event will be a mainstay in years to come, as it opens up our conference to people who cannot attend physically for whatever reason, allowing them to engage in the latest scientific research. We are committed to continue the growth of this symposium into new sectors and new regions, and we are primed to reach 400-500 delegates in 2022.
This years over-arching theme will be «Sustainability – A Brave New World». There will again be an interesting array of local and international invited speakers, and as always, we will be inviting researchers far and wide to submit and present a large range of scientific papers, loaded with industry-relevant content. By using the most up-to-date conferencing software, we will be able to offer our VIRTUAL attendee's opportunities to network with each other, as well participate in the the Live Q&A during the event, and the ability to connect with other delegates at the event using the MEETING HUB.
https://www.apss2022.com.au/