Poultry Focus Asia 2020
14 diciembre, 2020

-

15 diciembre, 2020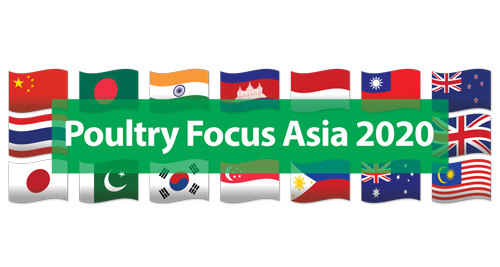 — Fechas pueden variar según evolución Pandemia covid-19. Confirmar con la organización–
POSTPONED TO december 2020 DUE TO CORONAVIRUS
CONFIRM NEW DATES WITH THE ORGANIZERS
Poultry Focus Asia 2020
14-15th December 2020
Avani Sukhumvit Hotel
Bangkok, Thailand
A leading conference on the technical aspects of the management of poultry in Asia
Avani Sukhumvit Bangkok Hotel
Bangkok, Thailand
Prices:
£UK450 (Bht18,000) ($US600)
For more information contact Jojo: jojo@positiveaction.co.uk
or visit www.positiveaction.info/conferences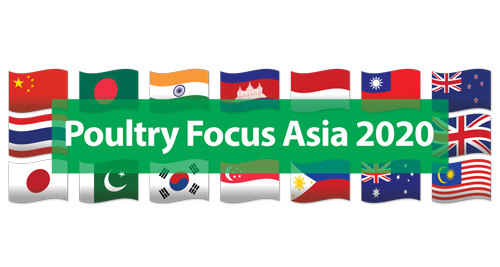 Original Dates: 23-24th March 2020 – check new dates !
Venue: Avani Sukhumvit Bangkok Hotel
PARTNER EVENT
Co-hosted by Positive Action Publications Ltd and VNU Exhibitions Asia Pacific.
This year's Poultry Focus Asia homes in on topical technical subjects which are very relevant to poultry producers. Once again this meeting has attracted high quality speakers from around the world with most of the speakers from industry holding very senior positions in the technical support and R&D divisions in their companies at global or regional level.
In addition, this year's Poultry Focus Asia will include some new developments in its two days format. These include two Mini Symposia at which delegates will join colleagues from Pig Focus Asia for a combined session. The first of these will focus on water quality and how to ensure this important topic is adequately covered in your company's/farm's biosecurity programme (SOP). The second Mini Symposium is currently being constructed and its theme will be announced shortly.
The content of the programme of presentations is, once again, very practical and relevant to poultry producers. With papers addressing topical subjects including managing the microbiome, controlling Campylobacter and/or Clostridium perfringens, fiber nutrition in layers, crude protein interactions as wells papers that look at optimising egg production and broiler performance.
Among the keynote speakers will Dr. Victor Yamo of World Animal Protection who will discuss how bird welfare and commercial production of poultry products can run alongside each other giving benefits to the farmer in Asia
www.positiveaction.info/ppdfa2020
programme Day 1
09:45

Open and welcome

10:00

Polyherbal phytogenic approach for profitable farm production

Praful Kumar • Ayurvet • India

10:30

Maintaining good welfare standards improves profitability

Victor Yamo • World Animal Protection • Kenya

11:00

Optimal usage of zinc and copper in monogastric diets

Arturo Pinon • Animine • France

11:30

African swine fever – how can we stop it spreading?

Alex Eggen • AEVC BV • Netherlands

12:00

Lunch

13:00

Sustainable nutritional solutions for antibiotic free production

Kiran Doranalli • Evonik Nutrition and Care GmbH • Germany

13:30

Reinforcing the gut barrier by using Bacillus subtilis 29784

Sumit Saxena • Adisseo Asia Pacific • Singapore

14:00

Management and lighting programs to achieve egg weight

Seiche Genger • Hy-Line International • USA

14:30

Effects of hop extracts against Campylobcter and Clostridium perfringens

Francesca Blasco • Dr. Eckel Animal Nutrition GmbH & Co. KG • Germany

15:00

Break

15:25

MINI SYMPOSIUM
Water – how do we know it is good enough?

15:30

Water sampling methods/protocols and results interpretation

Saharuetai Jeamsripong • Chulalongkorn University • Thailand

16:00

Water Microbiology Testing for Livestock Industry

Ng Wei Lun • Idexx • Singapore

16:30

Biosecurity protocols for water lines and water in livestock

Ricardo Munoz Saba • Neogen Corporation • USA

17:00

Discussion and close
programme Day 2
08:15

Open and welcome

08:30

Impact of SCFAs on poultry gut health

Guo Bing • Perstorp Chemicals • Singapore

09:00

Naturally invented pathobiome control

Zsófi Bata • Dr. Bata Ltd • Hungary

09:30

Unlocking the hidden potential of gastrointestinal functionality

Sanitago Ramirez • DSM?Nutritional Products • Australia

10:00

Microbiota – the key to optimising poultry performance

Jeong Seung-Hwan • Biomin • Korea

10:30

Break

11:00

Mini Symposium 2

12:30

Lunch

13:30

Insoluble fibre optimised egg production

Chan Mong Hoong • JRS Germany • Malaysia

14:00

The impact of feed stucture on layer type birds

Ron Eek • Lohmann Tierzucht • Germany

14:30

Betaine and crude protein interaction in poultry feed

Ana Gavrau • AGRANA • Austria

15:00

Break

15:30

The role of tannins in poultry nutrition

Nicola Panciroli • Silvateam • Italy

16:00

Bioactive phytogenics for improved efficiency and animal health

Kathrin Büehler • Herbonis Animal Health GmbH • Switzerland

16:30

Gut health – the basics of good health management

Joséphine Verhaeghe • CID-Lines • Belgium

16:45

Effect of L-selenomethionine in pigs

Brecht Bruneel • Orffa Additives BV • Belgium

17:00

Discussion and close